Yesterday was pretty much the perfect day...the type of day you journal about.
After a busy morning at Pier 1, I headed to KC to spend the afternoon with Kat. We decided
a few weeks ago over sushi
that we both wanted to get a little body modification done, and this was going to be the day to do it. It was an absolutely beautiful day to get lost on foot in Westport (
Think anyone's going to notice we've walked past three times?)
before finally arriving at Freaks on 39th.
Freaks on 39th is an old house with orange paint and blue trim and stairs that creak. Unlike some tattoo and piercing places it isn't scary hospital sterile with nasty fluorescent lighting, but it still felt very very clean. The staff there was awesome, and even though Kat and I don't exactly look like we belong in a place called "Freaks" we felt very welcome.
Kat decided to get a tattoo of
The Uffington White Horse
(click the link to learn more) and after the tattoo artist cleaned up her sketch a bit and made the stencil, she was ready to go-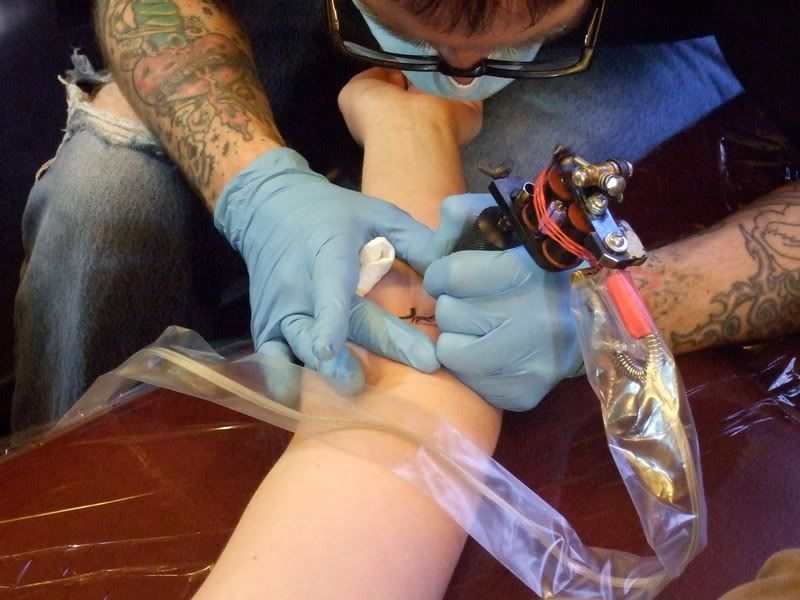 Kat and I completed our perfect day with dinner at the Bluebird Bistro- mmm organic food and vegan orange cake! It was such a gorgeous day outside, and it's so great to spend time with a great girl friend. I'm so lucky to have a friend like Kat! Thanks again for having an adventure with me!