So we're going to time travel a little bit here at Lindsey in Lawrence, because I just now got the pictures from this weekend uploaded. (No worries because we were all pre-determined to go back in time and we won't mess up the future!) Anyway...
This weekend found me in Springfield, Missouri to take care of a few things with Momma Arnold and see some old friends. I left early Saturday morning, and I love driving at that time of day...watching the sun rise, listening to NPR, no one really on the road...it's soothing.
Veronica, Momma A and myself spent the afternoon being fairly productive and hopefully soon we'll see that our efforts paid off. :-) After a quick nap at the Hampton Inn and dinner at my favorite restaurant in Springfield (Mmm Nonna's!) we walked around the corner to the Springfield Little Theater to see the Springfield Ballet perform.
I'd never been there before, but the theater was gorgeous. We ran into the Walter family there, and it was really great to see them. Unfortunately they don't allow dogs in the theater so I didn't get to see Jack, Truman or Rodrigo. The ballet itself was an interesting experience- 3 contemporary pieces and Swan Lake Act II. One of the contemporary pieces,
Anti-Congruence
,
was my favorite. I would describe it but I don't think words can really do ballet justice.
I'd also never seen anything from Swan Lake before, and I was blown away by the pas de deux of Sigfried (the prince) and Odette (the swan). Who knew there was such talent in Springfield? Okay I'll admit it, watching Act II really just made me want a cute prince with long hair and tights to fall madly in love with me and spin me around like a ballerina in a music box.
After the ballet, Momma A and I grabbed Kassie and headed to Ernie Bigg's piano bar. Dueling pianos and a cute drummer had the place rockin'. There's nothing quite like singing 70s music at the top of your lungs with your mom. Observe-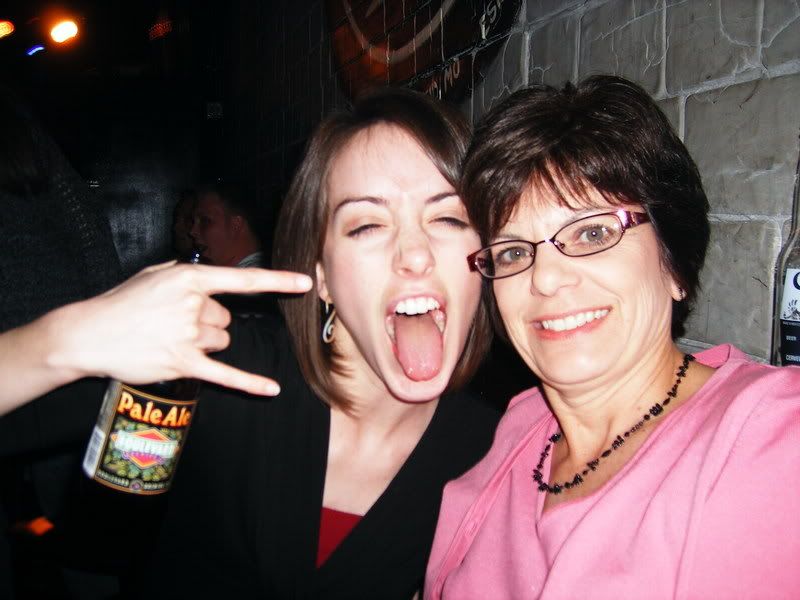 There's also nothing quite like watching your mom finish her beer before you or Kassie...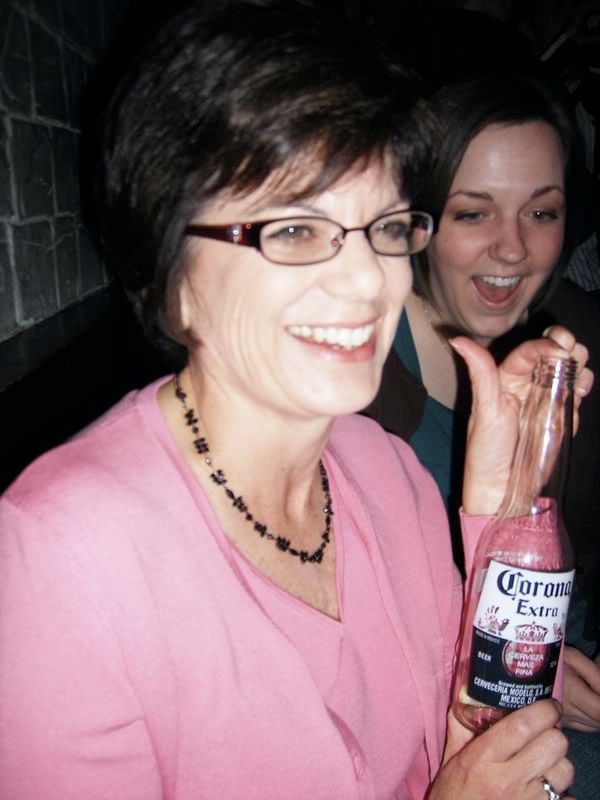 On Sunday we headed back to Kansas to party with the church family at the Smith's as Kristie was going in for major surgery the next morning. The surgery went well and her cancer didn't spread to the lymph nodes, so everyone is very relieved. The get-together on Sunday made me really appreciate the good energy friends and family and laughter bring.
All in all a really good weekend.
But before I let you go, a "Blind Item"! The online tabloids post these all the time, a piece of juicy gossip that involves a mystery celeb. While my blind item doesn't involve juicy gossip or a celebrity, it does have a picture!
Blind Item: Which blogger on my blog roll recently played the supporting role of the evil wizard Von Rothbart in Springfield Ballet's production of Swan Lake Act II? Feel free to comment with your guesses. ;-)