Greetings from fabulous Tulsa, Oklahoma...
Tonight my brother and I went to go see my friends Travis and
Brian
perform at a coffee house. Travis, Brian and I were all interns at good ol' Camp Tawakoni a few years ago and survived quite an interesting summer out there. Both of them are very talented and it was great to catch up and enjoy some wonderful music.
(Grainy camera phone picture courtesy of Nate. Brian is playing the keyboard and Travis is on the bass.)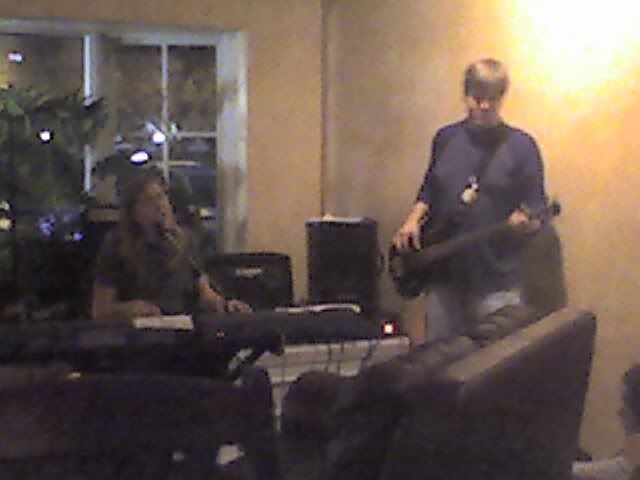 I always find it amusing and interesting how much I connect my memories with music. The right (or wrong) song can bring back a flood of memories with very little effort, all it takes are the first few notes and suddenly you're back to...well, wherever.
Tonight it was "Doubting Thomas" by
Nickel Creek
. (The song is on their Myspace and you can listen to it if you click the link. If you haven't heard it you should definitely check it out.) Brian promised me he'd play some Nickel Creek after I whined about him not playing his mandolin (I love hearing NC's song
"The Fox"
) but I wasn't expecting him to make me cry.
You see, there are two very distinct memories that song takes me back to-
One is camp, sitting around a campfire while communion is taking place. Travis is playing guitar and trying to sing, but his voice isn't quite there. The inky black humid night, lit by stars and the occasional airplane was so comfortable for me. There's a certain connection that seems to happen only at camp- an experience of "that which is beyond life". After camp it fades into a vague memory, only to be conjured up in a coffeehouse in Tulsa of all places.
But then your memory takes you someplace else-
To a lake, and a beautiful stormy Sunday morning at an unfamiliar church. A young man is singing his heart out for a congregation who loves him, as I try to hide my tears and Pete plays poker on his phone in the seat next to me. There's a certain ambivalence to the moment- acceptance and peace full of nervousness and excitement; a weekend beyond words and yet so full of them.
Both memories quickly fading and seemingly so far away, I have to decide where to reside...what to remember...
Ah! What about now? I take a breath and allow myself to enjoy the music in the context. Good friends, good chai, good conversation. No need to go someplace else, everything I need is here.
And as Brian finishes the song the way only Brian can, I applaud.
I'm always where I need to be.
----
Easter weekend always makes me contemplative.
So um...here's a picture-