Today was my date day. I took myself to KC for the afternoon to try and forget about the stress of not being able to find a job and to try and get myself centered and relaxed once again. What better place to unwind and enjoy beautiful artwork than the Nelson-Atkins Art Museum? I brought along a camera so you all can share some of my favorite parts of today.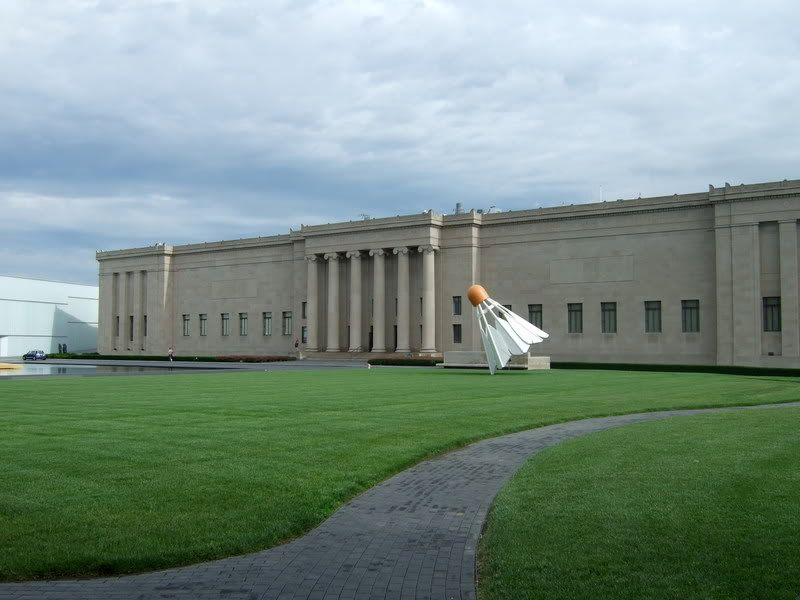 The front of the museum. Ahh the shuttlecocks.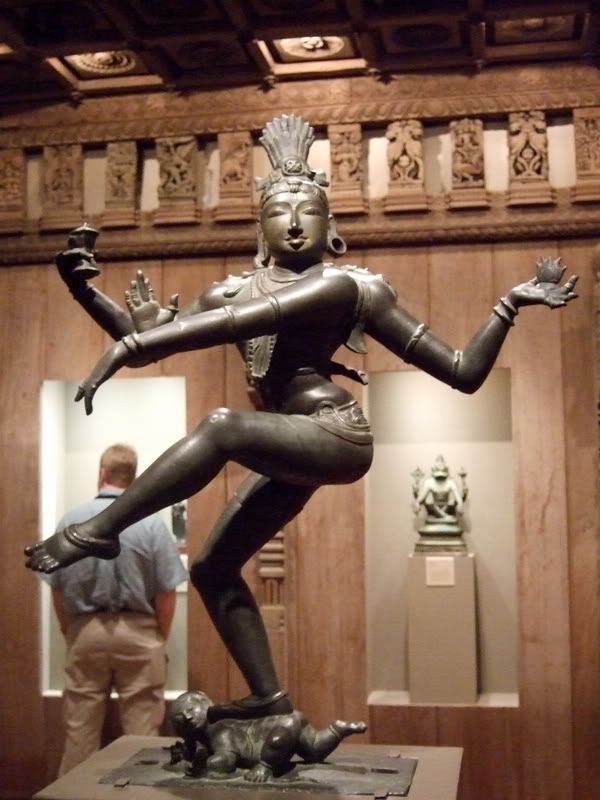 One of the most important Hindu gods, Shiva.
Probably the coolest part of the afternoon at the museum for me (the huge religion nerd) was seeing all the different cultural interpretations of religious icons. There were an innumerable amount of Buddhas, Jesus and other religious figures (including a room with pieces from a Hindu temple) and I loved every single one of them.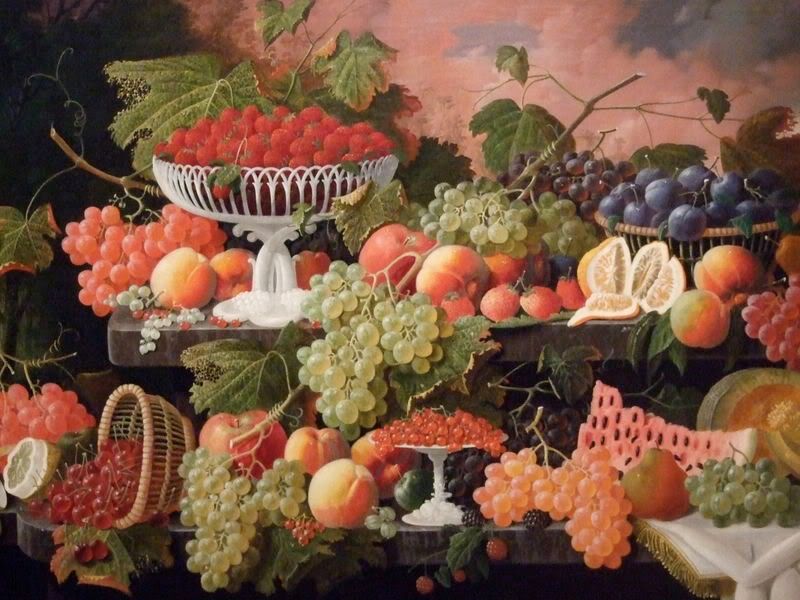 Severin Roesen's "Two Tiered Still Life with Fruit and Sunset Landscape"
The painting was so life-like I wanted to pluck a grape right off the canvas. (But I didn't because I was afraid of the pale guy with his eyes in his hands waking up and trying to eat me. Man I hope you catch that reference!)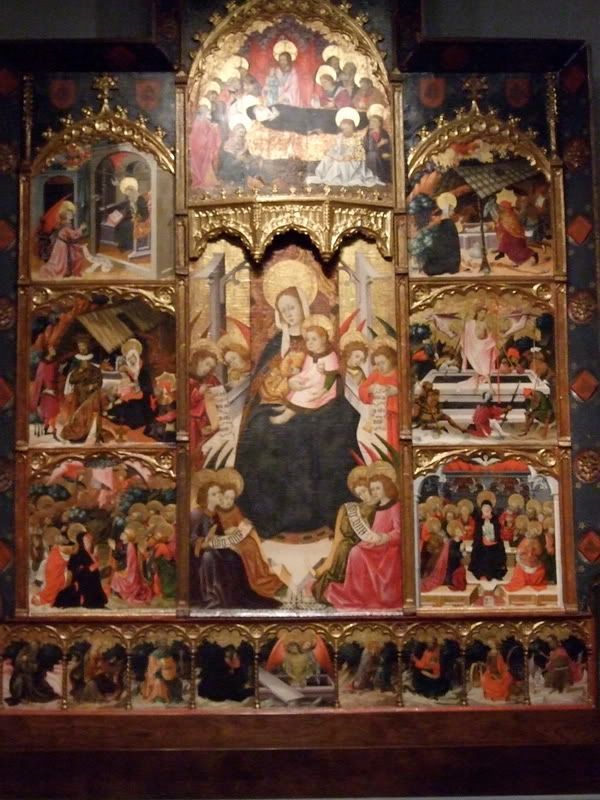 A panel depicting Madonna and child from the Medieval room.
This whole room made me wish that Dr. Esposito had been there to narrate. It's much more interesting to see these things in person than on a slide show.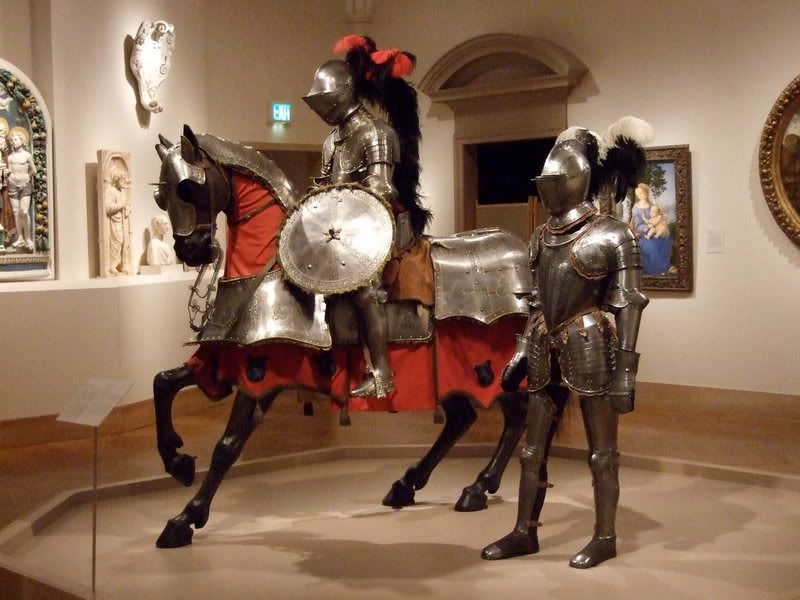 Knights in shining armor...aka the room that made me face my fear.
Ever since going to the haunted house "The Beast" a few years ago, museums have made me jumpy. I expect everything to start moving and chasing me. I had to take a minute to breathe before I walked into this room. ;-) Yeah yeah...I know.


(Photobucket removed this photo...apparently it doesn't matter how culturally significant the nipples are, they're still nipples)


Atalanta and Meleager
Meleager was a prince of Calydon, and in this sculpture he's embracing a virgin huntress named Atalanta. Her face intrigued me because I couldn't tell if it was simply the stone she was cut out of, or if she's meant to look disinterested.

"Waterlillies" by Claude Monet
My picture just doesn't do this justice. There is an aptly placed bench in front of this painting where I took a moment to just marvel...and laugh. A family was passing through the room and a teenage girl remarked to her mom "You call this crap art but yet you hate the music I listen to?!" Oh goodness.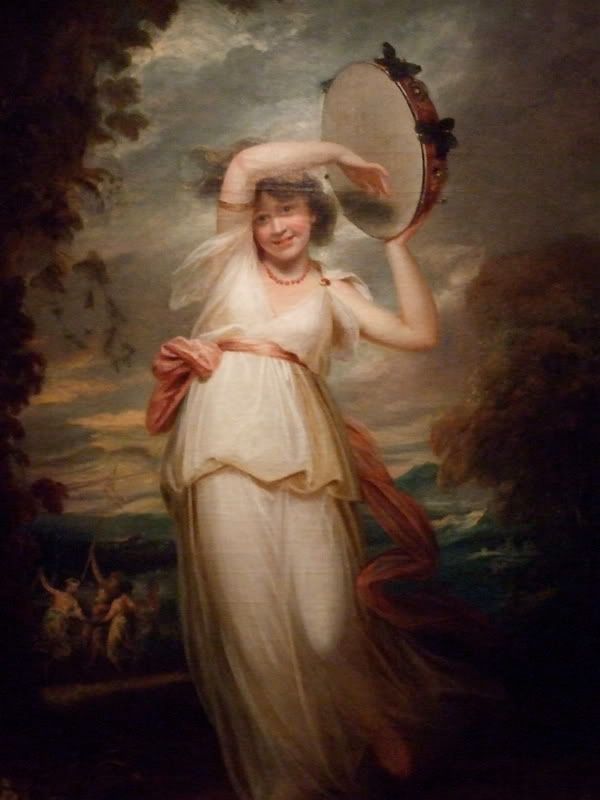 "Portrait of Emily St. Clare as a Bacchante" by John Hoppner
I love the impish look on her face, the use of light and how her clothing just flows around her. This painting was at the end of a hallway and when she caught my eye, I couldn't help but smile.
Yet again my camera doesn't do this justice. It's a depiction of the rebel angels being kicked out of heaven. What amazed me about this is how small it is but yet how intricate the details of each figure are. In the lower right corner the mouth that is eating the angels represents hell.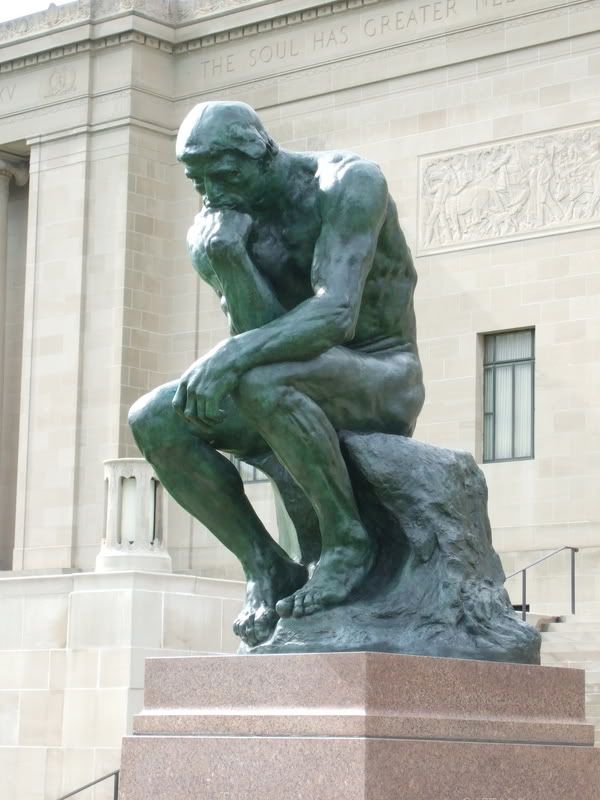 A full sized cast of "The Thinker" by Rodin in the sculpture garden.
"What makes my thinker think is that he thinks not only with his brain, with his knitted brow, his distended and compressed lips, but with every muscle of his arms, back and legs, with his clenched fist and gripping toes." - Rodin
All in all I'd say today was a pretty successful me-date. I enjoyed the quiet of being by myself in the gallery, going where I want to go and taking as long as I wanted. I took myself out for a chai latte on the Plaza afterward because hey...I deserve it. While I will always enjoy the company of others, it's nice to know I can do things by myself.