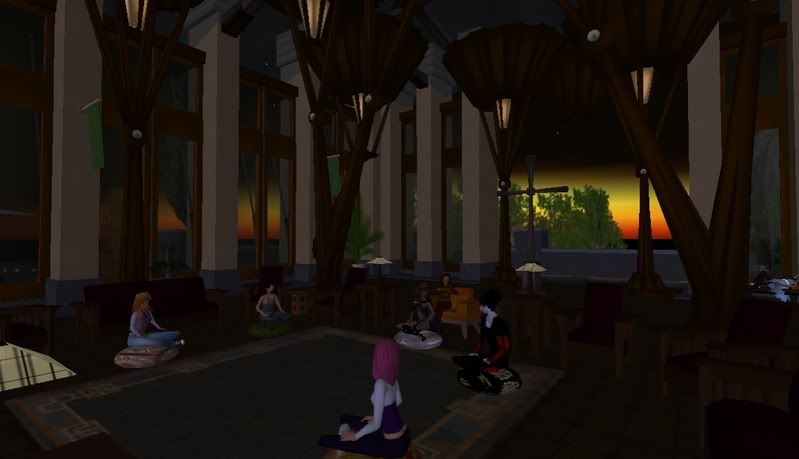 I went to church twice today...sort of.
This morning I headed into KC to go to worship service at Shawnee Park (my home church where I grew up). I needed a little "introvered extrovert" time and church was the perfect place to recharge. I was able to be around people, instead of alone in my apartment, but I didn't have to really talk to anyone either. Lucky me, we sang some of my favorite songs and I was able to get much-needed hugs from my multiple sets of church parents.
Fast forward to this evening...
After I just couldn't take any more of "The Fox and the Jewel" for my Religion in Japan class, I hopped on Second Life. My avatar appeared in the last placed I'd visited which happened to be Koinonia Church, which is "affiliated" with the
UCC
. I figured there was definitely less of a chance I'd be hit on by half naked strange avatars there, so I decided to hang out for awhile.
And wow, I'm glad I did! I was able to meet the pastor of the Second Life (SL) church, Sophianne. In real life (RL) she's a Master of Divinity student at Candler divinity school which is a part of Emory University in Atlanta. She's writing her thesis on this sort of technological spiritual experience, and I'm looking forward to talking to her more about it in the future as I write my research paper at the end of the semester and develop my thesis topic.
Maybe this SL world isn't all bad. It's possible there are pockets of good intentions...I think so.
But once again it's strange for me, because as I sat there talking to the people who were hanging out at Koinonia, I was sitting in my apartment in my underwear drinking a
beer
and no one was the wiser!